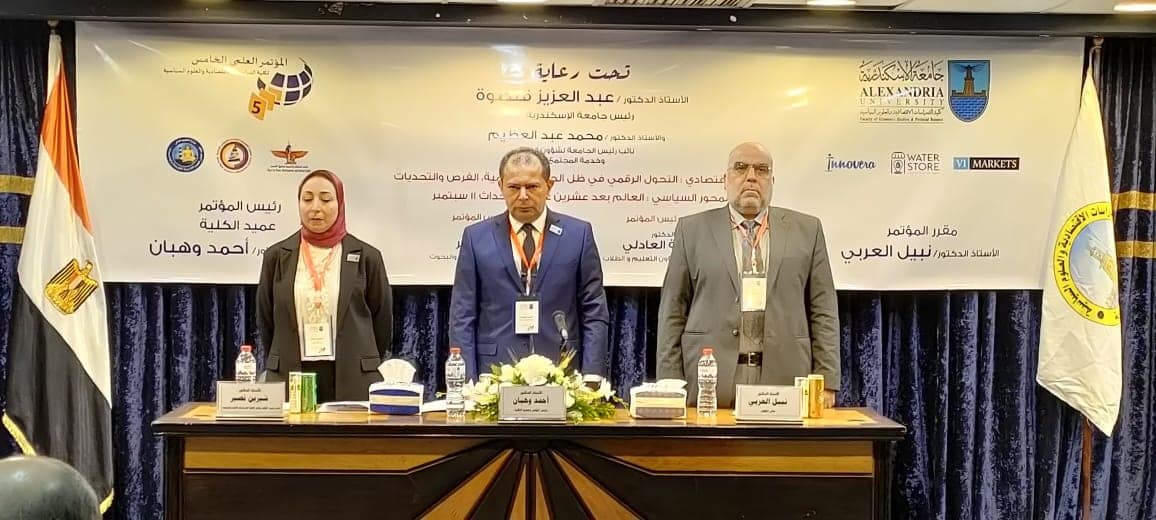 Under the patronage of Dr. Abdelaziz Konsowa, President of Alexandria University, and under the supervision of Dr. Mohamed Abdel Azim Abul Naga, Acting Vice President for Community Service and Environmental Development, the Faculty of Economic Studies and Political Science held its fifth scientific conference headed by Dr. Ahmed Wahban, Dean of the Faculty, Dr. Osama Al-Adly and Dr. Sherine Nassir As Vice-Presidents, and Dr. Nabil Salah Al-Arabi, rapporteur of the conference, in the large and small conference rooms in the faculty building.
Dr. Ahmed Wahban, Dean of the faculty, indicated that the conference discussed economic and political issues during its sessions, as it discussed on the economic side the issue of "digital transformation in light of the global pandemic, opportunities and challenges" and related issues, such as the Corona pandemic and the overlap between them, the issue of e-learning, the digital divide and ways to confront it, The conference also discussed the development and future of the digital economy in Egypt, the ethics of the digital economy, and discussed some aspects related to the Corona pandemic, such as its impact on the tourism sector in Egypt, and the impact of Corona on digital transformation and e-commerce, while addressing the role of financial technology in reducing the digital divide between rural and urban in Egypt. On the political side, the Dean of the College indicated that the conference discussed the topic of "The World Twenty Years After the September 11th events," as it touched upon many topics related to the changes that international politics witnessed during the twenty years, such as the growing international interest in the idea of ​​the war on terrorism, and the decline in ideas and endeavors Globalization and democratization with the flourishing of populist ideas and systems, the growth of Islamophobia ideas, and the formation of a new international format that includes, along with the United States, There are two other polar powers, the Russian Federation and China, with some important changes at the level of international law in light of the decline in the concept of sovereignty, as many types of interference in the internal affairs of countries have emerged, such as international humanitarian intervention, international intervention to combat terrorism, and international intervention to disarm weapons of mass destruction. .and others.
The conference included five sessions, during which 22 papers were presented on the political and economic axes, with the participation of researchers from several Egyptian and Arab universities, namely Alexandria, Cairo, Zayed Emirates, Suez, Damanhour and 6th of October, in addition to researchers representing the Maat Center for Development, Democracy and Human Rights, and the Dialogue Center for Political and Media Studies.