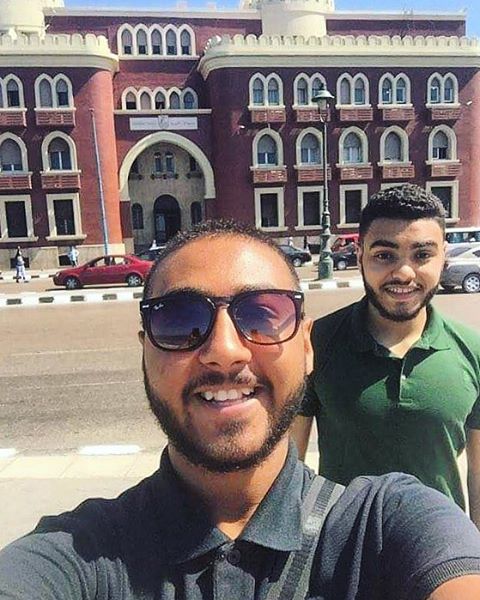 Alexandria University encourages student exchange programs with international universities. The university welcomes all students coming from other universities for study. AU also accept grants provided for its students from the international universities either for training or enrollment in scholarship programs.
First: Foreign Students
The number of students coming from foreign countries to study in Alexandria University is 469 students distributed among ten faculties. The Faculty of Law has the largest number of foreign students as 377 foreign students [i.e. 80.4%] are studying. The other faculties has 46 students in the Faculty of Education followed by Nursing (14 students), Medicine (10 students), Pharmacy (8 students) and less than ten students in faculties of Science, Veterinary Medicine, Tourism and Hotels, Kindergartens and the Faculty of Economic Studies and Political Science.
Manycountries around the world send students to study in AU like Hungary, Germany, Jordan, Kuwait, Sudan, South Sudan, Kenya, Uganda and Chad.
The following table shows numbers of foreign students studying in AU faculties and institutes
Number of Foreign Students

Faculty

Female

Male

0

0

Arts

91

286

Law

0

0

Commerce

1

Science

10

Medicine

6

2

Pharmacy

0

0

Engineering

0

0

Agriculture - Shatby

0

0

High Institute of Public Health

31

15

Education

0

0

Dentistry

0

0

Medical Research Institute

2

4

Veterinary Medicine

0

0

Institute of Graduate Studies and Research

1

1

Tourism and Hotels

0

0

Fine Arts

0

0

Physical Education - Boys

0

0

Physical Education - Girls

0

0

Agriculture – Saba Basha

6

8

Nursing

0

0

Specific Education

4

0

Kindergarten

0

1

Economic Studies and Political Science

142

327

Total

469
Second: Egyptian students who received grants or Internship
A lot of AU students received grants or training internships from many countries. A total of 55 students distributed in the Faculties of Medicine, Pharmacy, Engineering, Agriculture, Veterinary Medicine and Nursing, had travelled to study abroad.
The following table shows numbers of Egyption students who received grants or internship
Number of Egyptian Students abroad

Faculty

Female

Male

0

0

Arts

0

0

Law

0

0

Commerce

0

0

Science

0

20

Medicine

17

8

Pharmacy

0

2

Engineering

5

Agriculture - Shatby

0

0

High Institute of Public Health

0

0

Education

0

0

Dentistry

0

0

Medical Research Institute

0

2

Veterinary Medicine

0

0

Institute of Graduate Studies and Research

0

0

Tourism and Hotels

0

0

Fine Arts

0

0

Physical Education - Boys

0

0

Physical Education - Girls

0

0

Agriculture – Saba Basha

1

0

Nursing

0

0

Specific Education

0

0

Kindergarten

0

0

Economic Studies and Political Science

18

37

Total

55