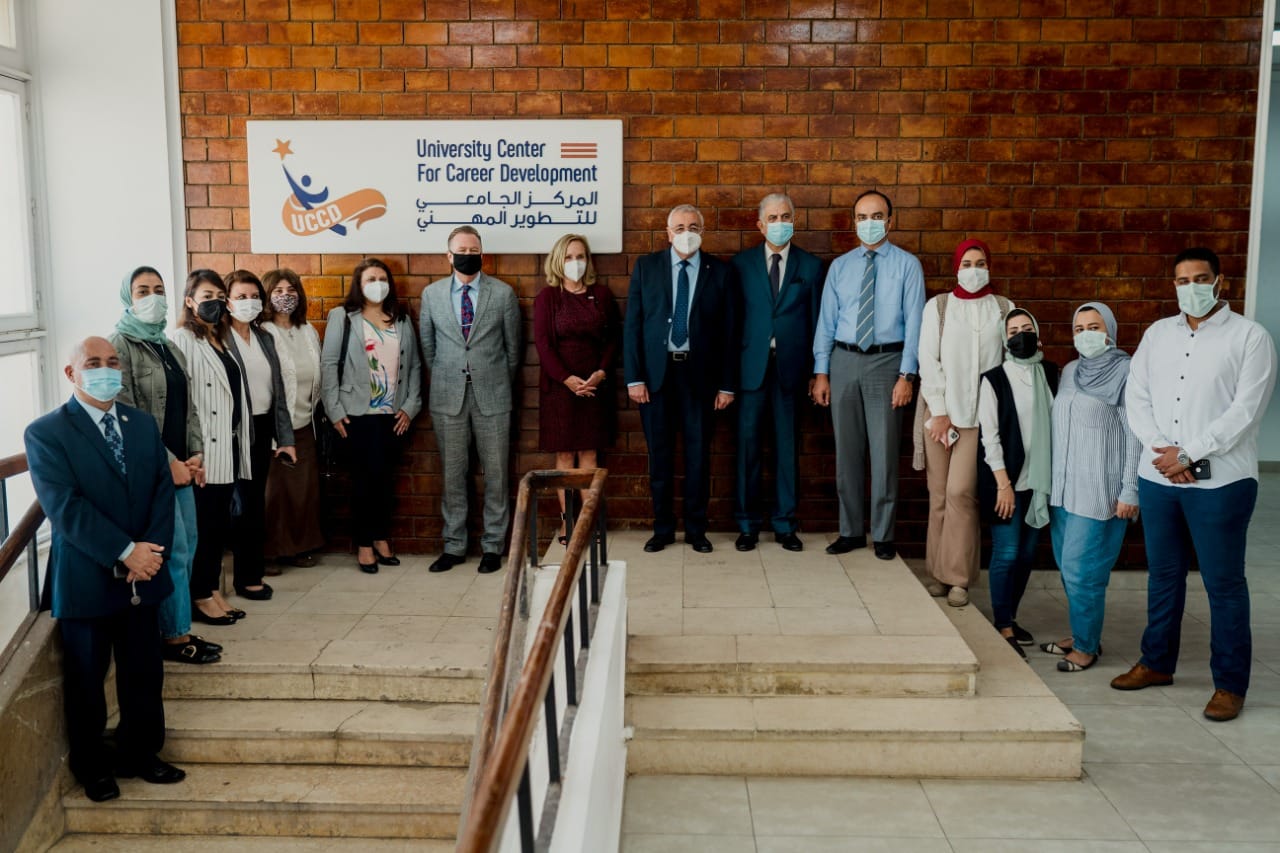 A delegation from the United States Agency for International Development in Egypt, headed by Ms. Leslie Reid, Director of the Agency, visited the Faculty of Engineering - Alexandria University. Egyptian public universities, and aims to train students and university graduates to bridge the gap between university education and the needs of the labor market and industry.
The delegation included Acting Director of the Education and Health Office Robert Powers, Director of Information Hector Gonzolas, Ms. Wafaa El-Adawy - Project Director of the US Agency for International Development, Ms. Maha Fakhry - Executive Director of the Project at the American University, and Ms. Dina Gohari - Deputy Project Director. The delegation was received by the delegation. From Alexandria University, Prof. Dr. Said Allam - in charge of running the work of the Dean of the Faculty of Engineering, Prof. Dr. Essam Wahba - Vice Dean for Community Service and Environmental Development Affairs, Prof. Dr. Tamer Helmy - Vice Dean for Education and Student Affairs, and Ms. Dr. Dina Saadallah - Director of the Center College professional development.
During the visit, Prof. Said Allam stressed the importance of cooperation between the two sides, stressing the main role of the center in preparing students according to the requirements of the labor market, and providing training courses on employability and entrepreneurship skills, which increases the ability of our students to compete in obtaining distinguished job opportunities.
The Director of the US Agency for International Development followed the activities of the center during the visit and expressed her admiration for the students' awareness, vision, and enthusiasm for the courses. She also expressed the importance of the project, which in the past three years established eighteen centers in eleven universities in ten governorates from Alexandria to Aswan, and praised the team's capacity-building programs Work at the center to be qualified and able to provide professional guidance services to university students, which contributes to the sustainability of the center and the services it provides.